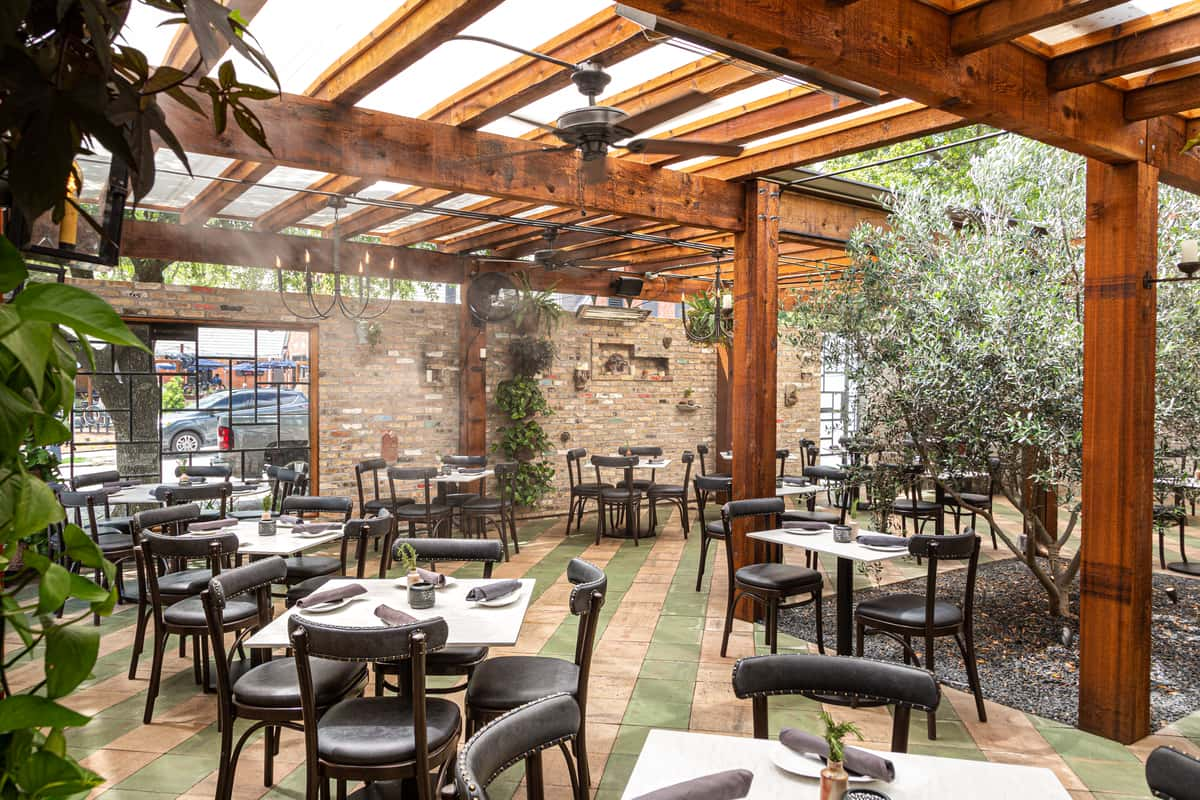 Mental Health Benefits of Dining Outdoors
Mental Health Benefits of Dining Outdoors
How Dining Al Fresco Helps Your Mental Health and Boosts Your Mood
It's long been known that spending time outdoors is one of the best ways for a quick mood boost. The fresh air, (hopefully) sunny weather, and deeply rooted connection to nature and beauty literally changes our body chemistry! In turn we experience lower levels of stress and an increase in oxygen to the brain, which helps produce those feel-good chemicals called endorphins. When you combine this with the good eats offered by Trattoria Sofia, it is known as al fresco dining.
"Al fresco" translates from Italian (but don't use this term there!) to mean in a cool place, and has been widely used in the U.S. to refer to eating outdoors. Originally, this was part of the medieval court tradition, where the royal hunting party would prepare and eat its recent catch "in the wild" or in a garden. This tradition spread to include people without fancy titles like Lord and Lady and became known as a pique-nique (French for picnic). As the dining and service industry has evolved, restaurants and cafés realized the potential of utilizing outdoor space to create a different ambiance than indoor dining could provide – not to mention the need for an expansion of outdoor dining options during the COVID-19 pandemic.
Not only is al fresco dining a fantastic way for restaurants to create additional and safer seating, but it provides patrons with more than a meal. Trattoria Sofia's climate-controlled terrace is a perfect example of a positive, mood-boosting experience that is the perfect reward after sleeping, working, and eating at home all week. Or maybe if you've had to postpone traveling, eating al fresco allows you to enjoy an authentic rustic Italian dining experience without leaving Houston.
Vitamin D
Most Americans have a Vitamin D deficiency, leading to problems with depression, bone density, your immune system, and a wide range of basic bodily functions (like blood pressure). And, truth be told, diet and supplements are not your best bet to get the Vitamin D your body needs. A surefire way to increase your Vitamin D intake is to grab some extra time in the sun. Getting out of the fluorescent glow of the office (home or away) for an al fresco lunch is the perfect way to boost your mental and physical health, giving you that needed boost for the rest of your day or even week.
Fresh Air
One of the best (and least surprising) benefits of eating al fresco is all the fresh air. Sitting outside, you are not breathing in recirculated and filtered air, and, according to doctors, breathing fresh air outside naturally relaxes people. Without even realizing it, this causes deeper breaths and better O2 intake – and is one of the best homeopathic medicines for all-around health boosts.
Ambiance
Mental health isn't just about what is going into your body (Vitamin D, Oxygen, and great food), it is about the setting you find yourself in. Studies show that the right ambiance can boost your mood and reduce stress. And you won't find a better and more authentic ambiance than the al fresco dining offered at Trattoria Sofia. With a climate-controlled dining area, the temperature perfectly matches the rustic and authentic Italian décor.
Views
At Trattoria Sofia, the al fresco dining is more than just ambiance – you can look out on the cityscape, enjoy a beautiful sunset, and feel the vibrant life of Houston all around you. Not only do the views offer a sense of beauty and awe (great ways to produce gratitude and boost mental health), but it also creates a sense of social connection. Who knew eating outside and taking in the scenery could do so much?
Food Tastes Fresher
It just does. Maybe, on some level, it's a combination of those other added benefits we just went through. Maybe it has to do with reconnecting to the world around us instead of picking up plastic-wrapped meat on a Styrofoam bed at the grocery store. Maybe it is the fresh air mingling with hot, fresh, and delicious foods – something about eating outdoors helps fresh food taste fresher.
When curating Trattoria Sofia's menu, this means freshness plays a central role. It isn't enough to rely on the outdoors and ambiance to make things taste better – we want it to be fresh in any setting. Not only will it satisfy your palate, but this fresh taste is perfect for serving picky eaters too (and we all know how stressful that can make dining!).
Can Help Manage Seasonal Affective Disorder
Outdoor dining at Trattoria Sofia brings a lot more than delicious and authentic Italian dishes to the table. We've covered some of the incredible (and often overlooked) benefits of breaking the routine and eating al fresco and how that might help boost your mood and brighten your day. Al fresco dining helps maintain social connection (even when dining alone), boosts vitamin D and oxygen intake, and engages all your senses.
This is a great way to manage one of the most common types of depression: SAD. About 10 million Americans experience SAD, or Seasonal Affective Disorder, and it is often associated with gloomy weather and the inability to be outside and interact socially. Dining al fresco will not cure SAD or any other type of depression, but it might be the right boost at the right time.
Drawbacks of Al Fresco Dining
Admittedly, al fresco dining isn't always sunshine and roses, so before you start scheduling out a standing date to eat outdoors, keep in mind some of these drawbacks:
Temperamental Weather
Outkast said it best: "You can plan a pretty picnic, but you can't predict the weather." This is the one variable that there isn't much you can do about. As temperamental as weather can be, keep in mind there may be seasonal impacts as well (think allergies).
No Noise Control
Being out in the open might make conversation more difficult. Beautiful weather will make al fresco dining a big draw, but without the acoustic benefits of walls, many outdoor noises cannot be accounted for. With other diners attempting to converse in the same setting, it can be hard to have intimate conversations at times.
Longer Wait Times
Outdoor seating is often further from the kitchen. At a restaurant with less-than-exceptional management, they might not have enough servers dedicated to a larger section. This can create slight increases in your wait time for food, so make sure you choose a restaurant known for outstanding service (somewhere like Trattoria Sofia, where all of these potential drawbacks have been thoughtfully considered, with adjustments put in place to ensure a quality dining experience).