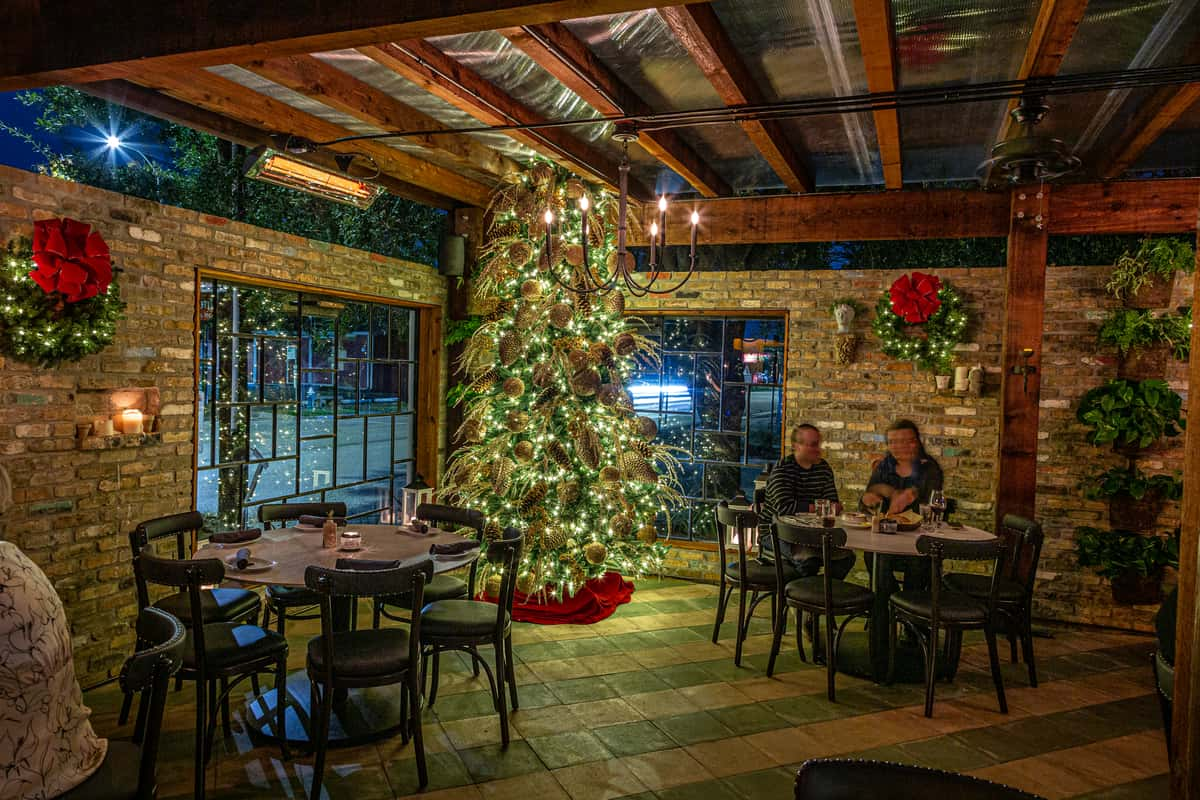 Best Romantic Restaurants in Houston
Best Romantic Restaurants in Houston
Romantic Restaurants in Houston
One of the true joys in life is dining out at a fantastic restaurant, and whether you're hitting the dating scene or treating your wife or husband to a relaxing evening on the town, everyone loves to keep knowledge of a uniquely romantic restaurant in their back pocket. Known for their fun, classy, high-quality restaurant concepts, Berg Hospitality has never been a stranger to "date night" hot spots like B&B Butchers. Now, the intimate new Trattoria Sofia has thrown its hat in the ring to compete for the honor of being the best romantic restaurant in Houston.
What Makes Trattoria Sofia So Romantic
Having just opened in November of 2021, Trattoria Sofia is a new Italian restaurant in The Heights. There's always been an alluring romanticism associated with rustic Italian food, and acclaimed restaurateur Ben Berg of the Berg Hospitality restaurant group purposefully designed this new concept to hold all of the energy and charm of a quaint eatery in the heart of Rome. This is a place where couples can be whisked away to Italy if only for one romantic, unforgettable meal.
Restaurants in The Heights with Patios
While much of the world is craving outdoor dining experiences, The Heights in Houston has always been far ahead on that trend. Trattoria Sofia pays homage to those long-time dining preferences with beautiful, climate-controlled outdoor seating. An expanded pergola is covered with frosted glass to keep guests dry while allowing in plenty of natural light. At night, candles flicker on the tables as lantern-style sconces bathe the elegant space in warm, dim lighting. Whether looking to propose or simply share a pleasant evening, Trattoria Sofia has the exact ambiance desired of restaurants in The Heights with patios.
Read more: Enjoy dining outdoors? The recently opened NoPo Café is another Berg brand with a highly touted outdoor atmosphere in which diners can relax in the open air.
Authentic Italian Food Near Houston Heights
Bringing the exquisite tastes of Italy to Houston was no small challenge, and to accomplish this feat, Berg Hospitality enlisted the help of Executive Chef LJ Wiley. Having lived and worked on numerous continents delivering culinary delights in the finest restaurants in the world (from Lima, Peru to Macau, China to New York City), Wiley and Berg crafted the perfect Trattoria Sofia menu.
A few standouts from the menu at Trattoria Sofia include the Bucatini Alla Pesto Siciliano (a vegetarian-friendly pasta dish with pesto, whipped ricotta, toasted pistachio, mint, basil, and lemon zest), the Costata Di Manzo Al Gorgonzola Dolce (a mouthwatering bone-in ribeye with aged balsamic fire-roasted tomatoes and braised radicchio), the Gamberi Fra Diavolo (spicy pan-fried shrimp in a smoky, spicy tomato sauce), and for dessert, Budino Al Caramella (caramel-butterscotch pudding with gianduja, cream, and sea salt). Are you getting a genuine craving yet?
Romantic Restaurant Reservations
For a memorable night you and your partner won't soon forget, get on over to our friends at OpenTable to book a reservation at Trattoria Sofia. This Italian restaurant in Houston promises a romantic setting jam-packed with brilliant flavors that will leave you eager for a return visit on your next special occasion.